MACHINE CONTROL. REINVENTED

Ditch Assist is an automatic machine control system for surface drainage and land leveling that automatically controls the raise/lower hydraulics on scrapers, ditchers, land levelers, blades, and just about anything that's raised and lowered hydraulically.
Ditch Assist uses input from a GPS receiver mounted on the implement to adjust height via the included proportional valve – just connect your implement hoses to the valve, and the valve to the tractor. Ditch Assist is the first machine control system to run on Android tablets, meaning BIG cost savings versus paying $thousands for a display, and it's also the first to offer wireless communications from the cab to the implement.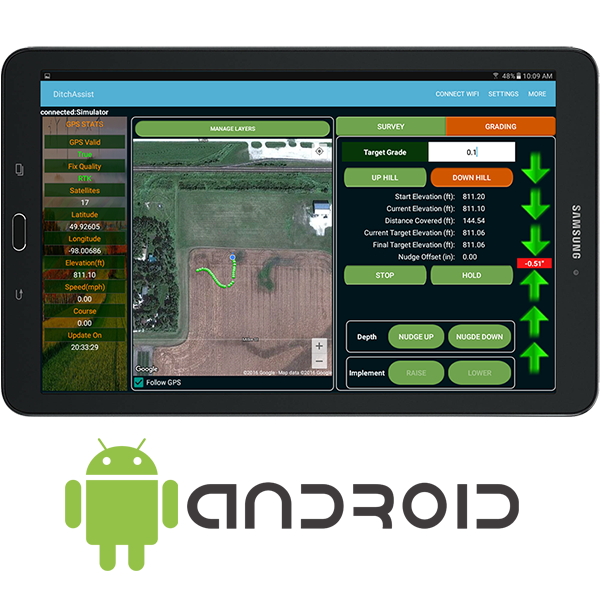 Instead of expensive displays, Ditch Assist runs through a free Android App on any 10-inch+ Android tablet. It also features wireless communications between the cab and implement.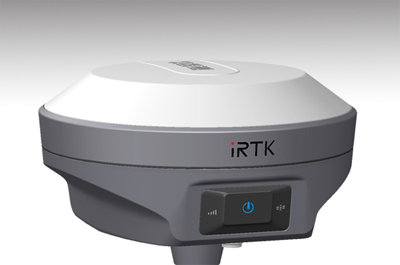 Works with ANY brand of GPS
If your GPS outputs NMEA (about 99.5% do) then it will work with Ditch Assist! Don't have RTK? Upgrade what you have, or purchase a low cost RTK system and use it with Ditch Assist!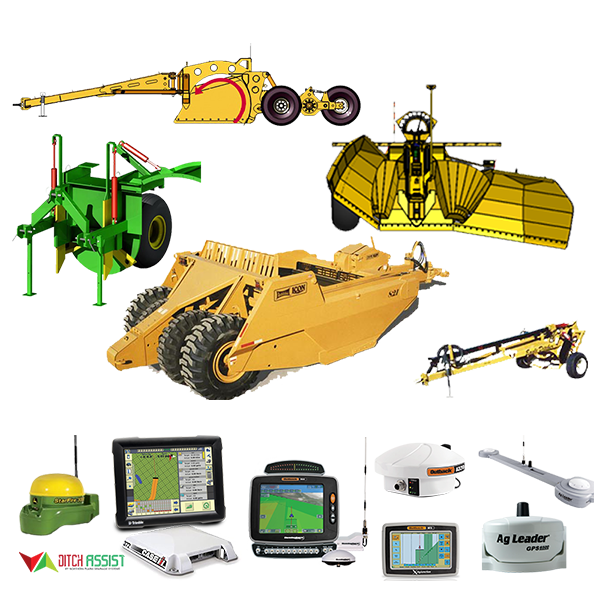 Ditch Assist utilizes a custom-designed proportional valve to achieve highly accurate hydraulic control on any make, model, or age of equipment without expensive platform kits.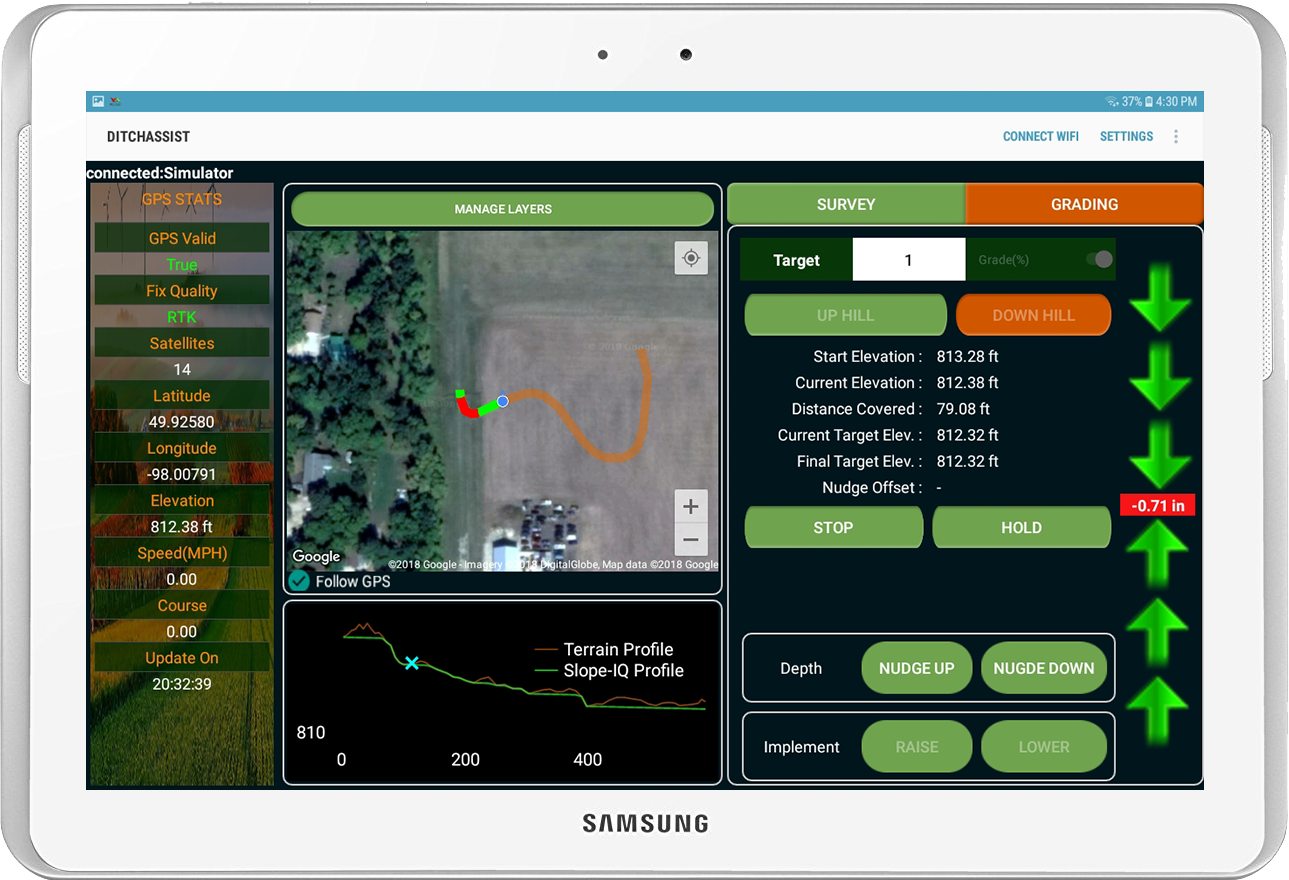 LOOK! No Expensive Display!

With the power of today's mobile devices, there's no reason you should have to pay $THOUSANDS for a display. That's why we built Ditch Assist to run on Android tablets. Simply install our free, intuitive Android app on your tablet and pair it with your Ditch Assist hardware.
The Ditch Assist App includes advanced functionality, such as ability to design 'best-fit' drains using our Slope-IQ engine, and the ability to import land leveling designs from OptiSurface, AgForm3D, WM Form, and more.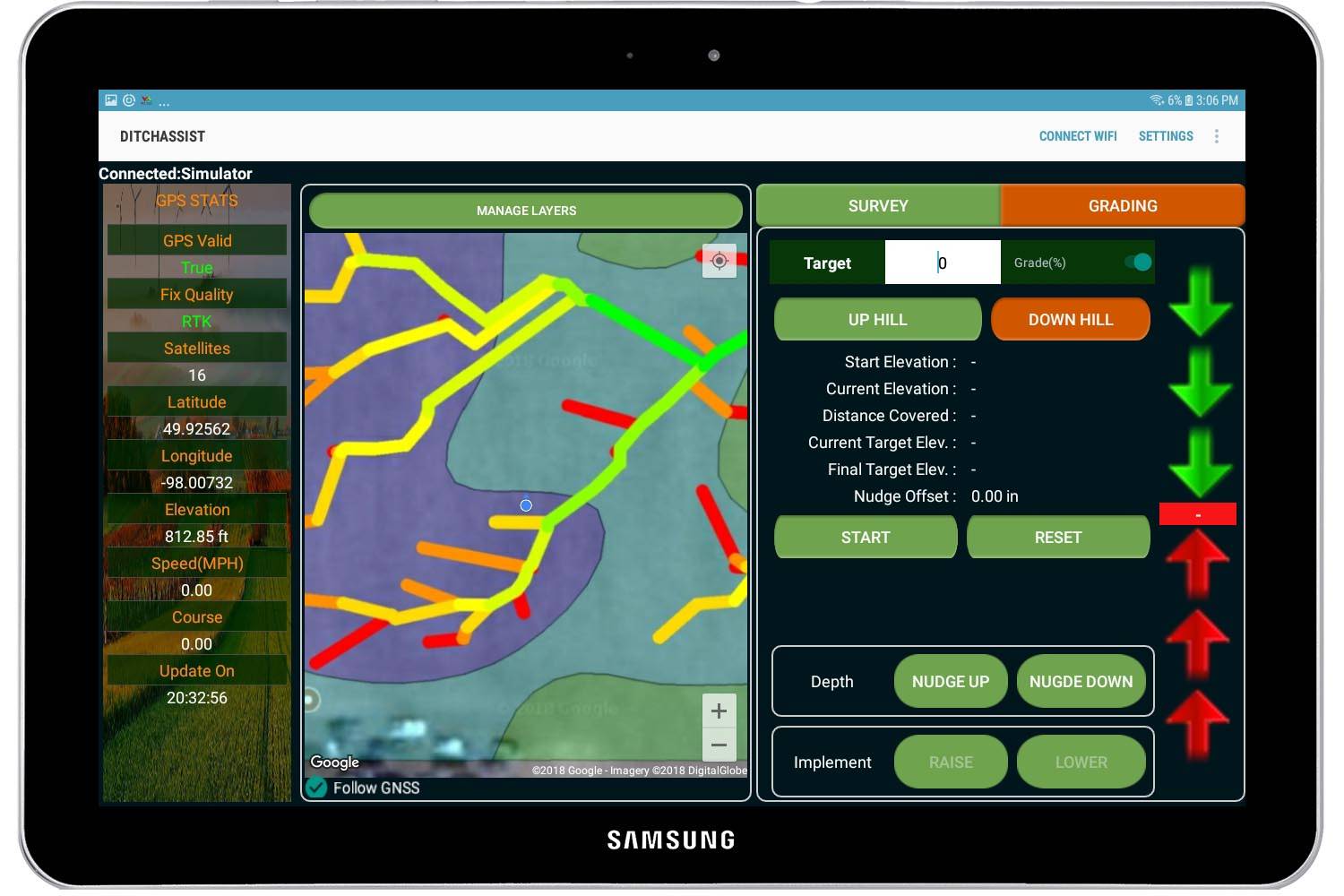 Load Drainage Maps for Reference

Import drainage maps as overlays so you can see where to make effective surface drains. Ideal Ditch™ Maps can be created from Lidar or RTK data, and provided as overlays to help you get maximum results. Contact Straight Edge Precision at 1-204-871-5004 to order custom drainage maps today!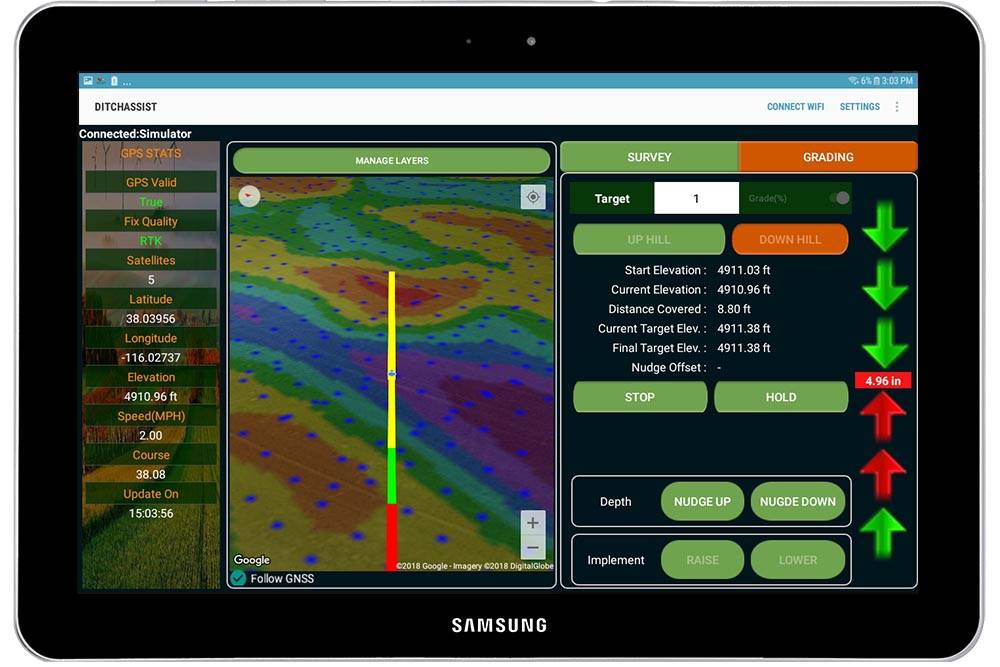 Implement Land Leveling Designs

Ditch Assist owners are now implementing advanced 3D land forming designs, such as this one from OptiSurface™. By loading a text file containing the design, plus an overlay cut/fill map for on-screen reference, you can get professional results without investing in construction-grade equipment.
Ditch Assist™ is the only grade control system to use Wi-Fi communication between the cab and the implement, meaning minimal wiring harnesses that are inescapable with every other system. This makes the system simple to install, simple to use, and easy to move between different pieces of equipment.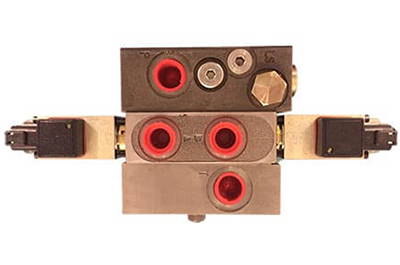 Truly Universal Hydraulic Control
Ditch Assist uses a custom proportional valve to run your implement's up/down hydraulics. Simply connect the implement hoses to the Pioneer couplers on our valve and connect the valve to the tractor remotes. Valves are custom made for Ditch Assist, and provide excellent performance and reliability.
Using a valve rather than direct-connect to tractor CAN bus eliminates calibration issues between different tractors, means you don't need an expensive vehicle adapter 'platform' kit for each tractor you'd like to use (and typically platform kits cost more than our valve!), and allows you to use tractors of any age with Ditch Assist.
Ditch Assist™ works with every brand of GPS, every implement that's raised and lowered hydraulically, and any tractor – regardless of it's age. Don't be tied to one brand!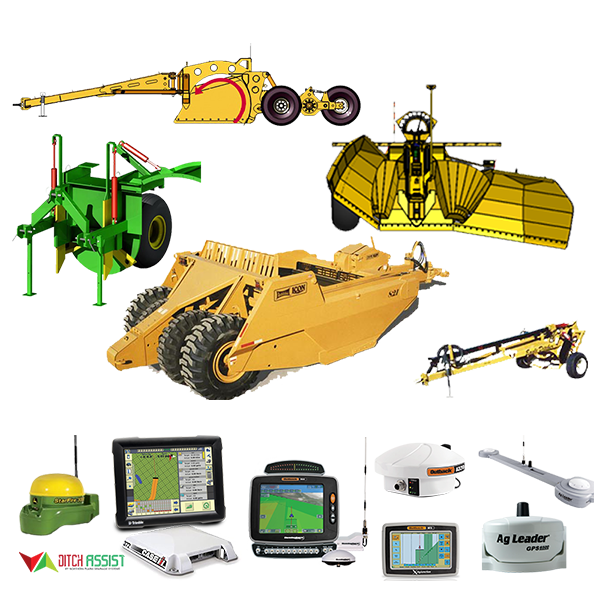 We've compiled a complete Knowledge Base site for Ditch Assist containing detailed instructions, information, and more.

Includes Slope-IQ™ 'Best Fit' Technology

With Slope-IQ™ you can be confident you aren't moving any more dirt than you need to be. Simply drive along the proposed drainage route (or across a field you'd like to land level) in survey mode. Then, specify the minimum slope you'd like to maintain for your ditch or plane. Ditch Assist will do the rest!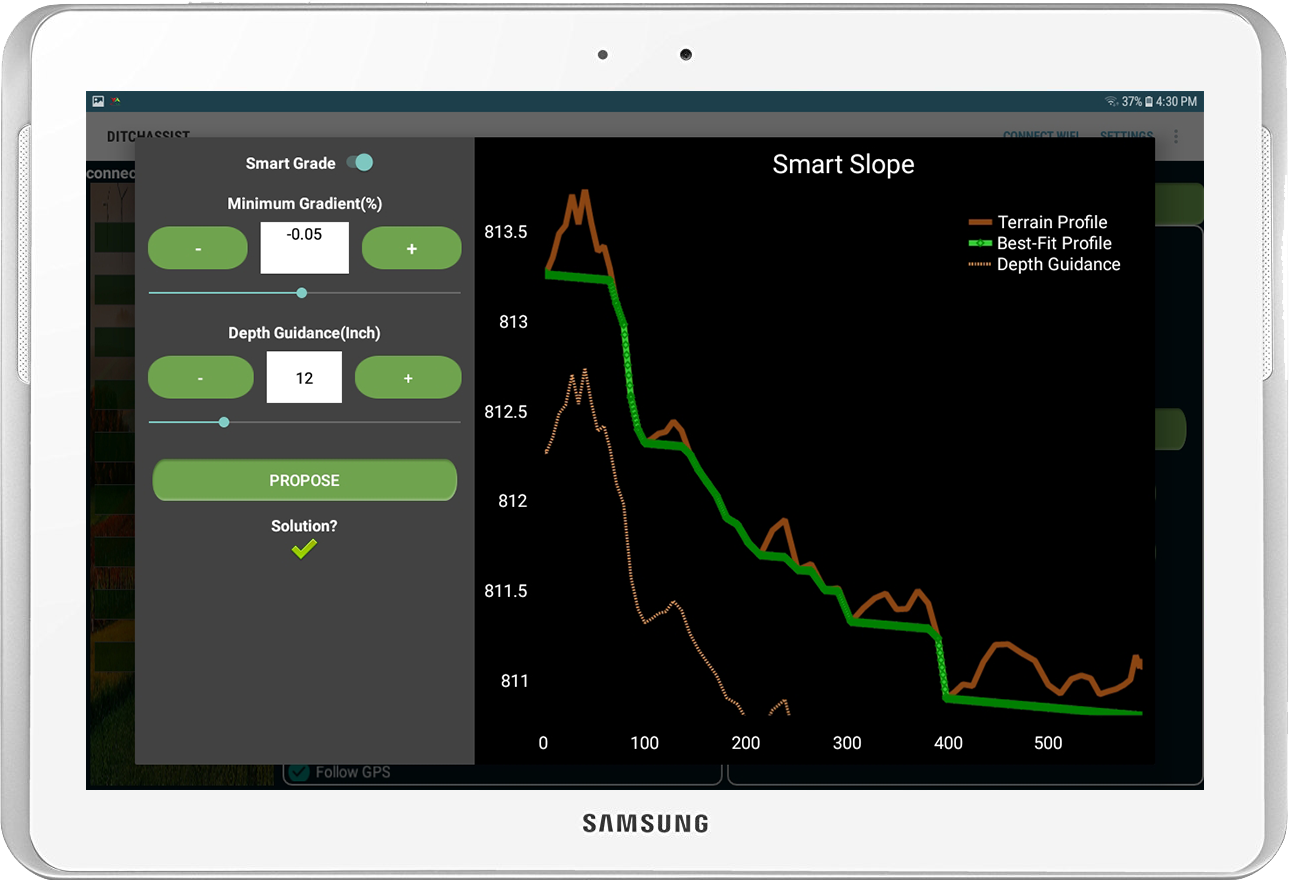 Includes Slope-IQ™ 'Best Fit' Technology
With Slope-IQ™ you can be confident you aren't moving any more dirt than you need to be. Simply drive along the proposed drainage route (or across a field you'd like to land level) in survey mode. Then, specify the minimum slope you'd like to maintain for your ditch or plane. Ditch Assist will do the rest!
Slope-IQ™ Works withCurved or Straight Routes
Wherever the land has sufficient natural slope, you won't move any more dirt (unless you decide to by using the Nudge Down function). Wherever there's a hump that would hold back water, Slope-IQ™ will implement your minimum grade. The end result is a drain that always has at least your minimum slope, but you won't move an inch more dirt than needed.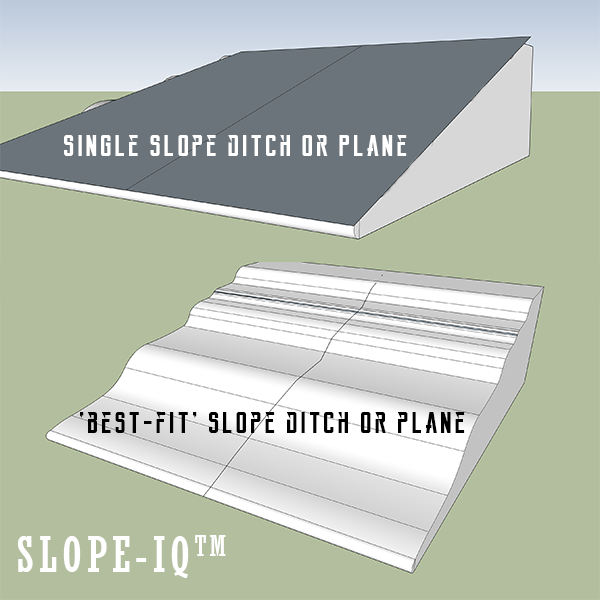 Simple Land Forming with Slope-IQ
Use Slope-IQ to create single or variable slope planes! Ideal for maintaining land that's already been leveled or for grading smaller fields. Simply drive along the center of the field or area to be graded in Survey mode, and then choose either a single slope or Slope-IQ 'best-fit' solution. Ditch Assist will 'stretch' the design outwards from your original survey route, allowing you to easily create a planar surface that's properly graded.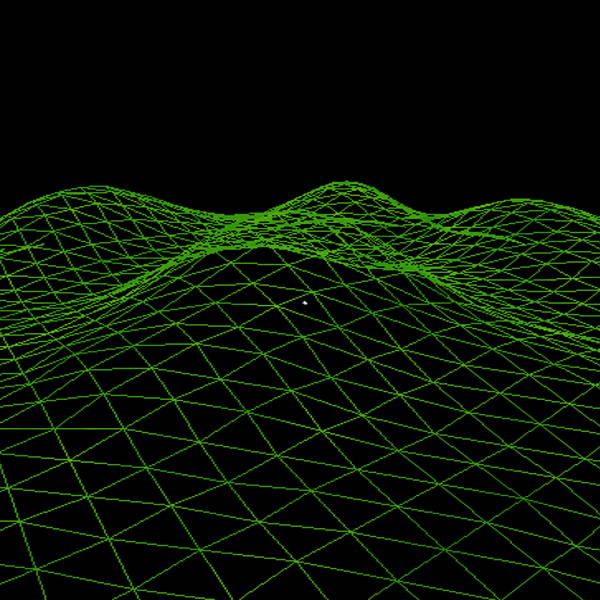 Implement Advanced 3D Land Forming Designs
Ditch Assist is the most affordable solution to implement complex land leveling designs. Load advanced 3D designs in XYZ text format from service providers such as OptiSurface, as well as software programs including AgForm3D and Ezigrade, and Ditch Assist will use the target elevations from the design to control your equipment to implement the design. With advanced interpolation algorithms running behind the scenes to replicate the design exactly as it's supposed to be, Ditch Assist packs a equal or greater technology punch here than perhaps any other system!

Ditch Assist was launched in 2015, and is a product of Northern Plains Drainage Systems Ltd, of Manitoba, Canada. At Northern Plains, we've been providing drainage consulting and surveying services, plus selling GPS and drainage equipment for close to a decade. We developed Ditch Assist because we saw a need for a simpler, lower cost system for automated machine control that's not tied to a particular brand of GPS or tractor.Ditch Assist isn't like other products on the market. It was built from the ground up to be as simple as possible to use, to be compatible with any combination and age of tractor and implement without needing platform kits, to keep the system affordable, and to minimize the amount of wiring harnesses that you'd typically expect. Ditch Assist has most of the features found in other products that cost 3x or 4x as much, and we're adding new features all the time. We have focused on features and functionality that farmers have told us they need and are willing to pay for – if Ditch Assist doesn't have certain premium features found in other systems it's probably because developing them would make our price higher, and because you most likely would rather live without it if it saves you thousands of dollars!