Ideal Drainage Mapping for Ditch Assist Users
Ready-made Drainage Layer for Optimal Water Management: Effortless Integration with Ditch Assist through Our Self-Service Portal
Now Available for most areas in Manitoba, Saskatchewan, Alberta, and North Dakota
We are currently working on other regions – check back soon
Exclusive Offer: Unlock Unbeatable ROI with Complimentary Access to Ideal Drainage Mapping — Only for Ditch Assist Owners!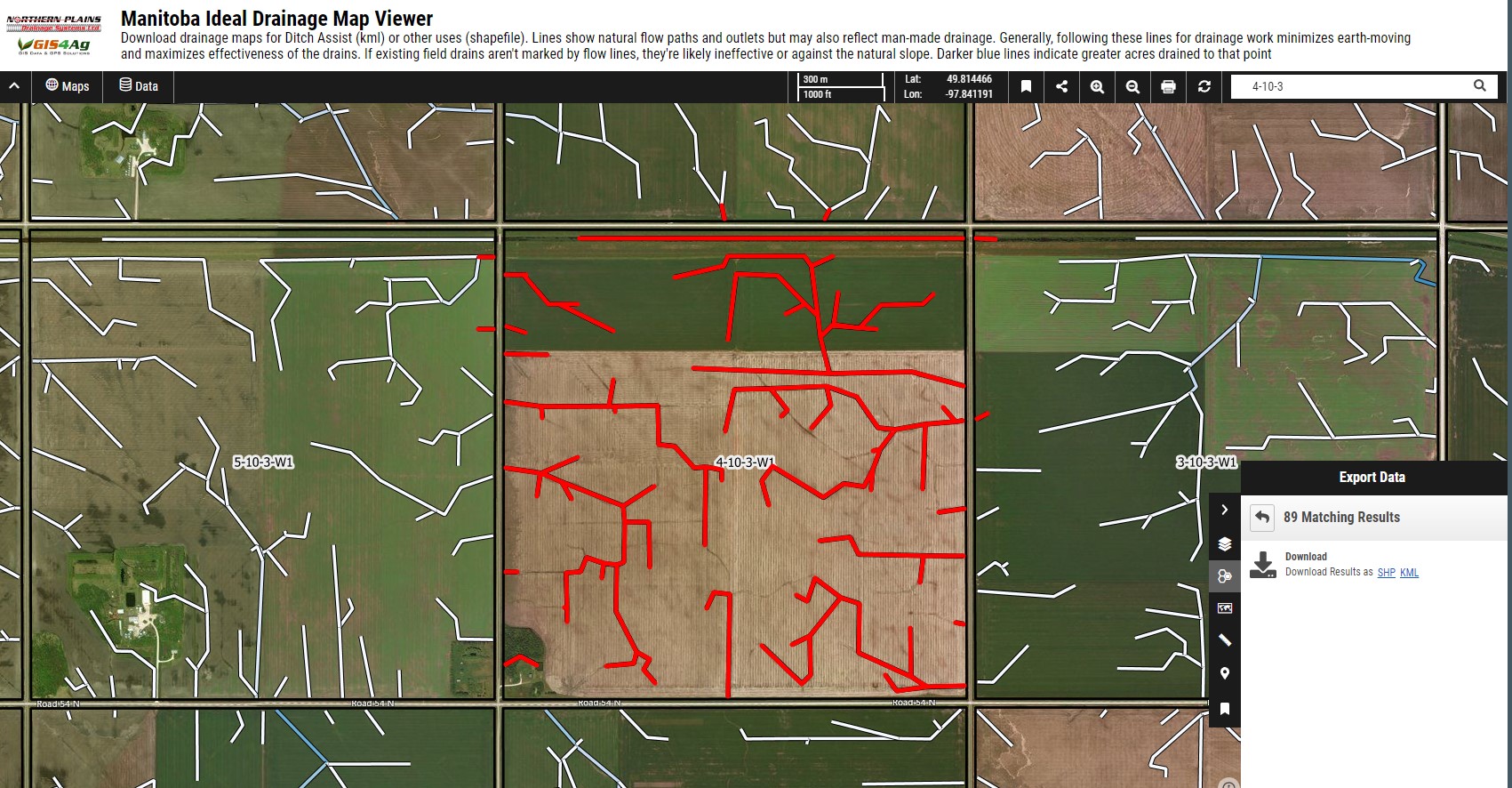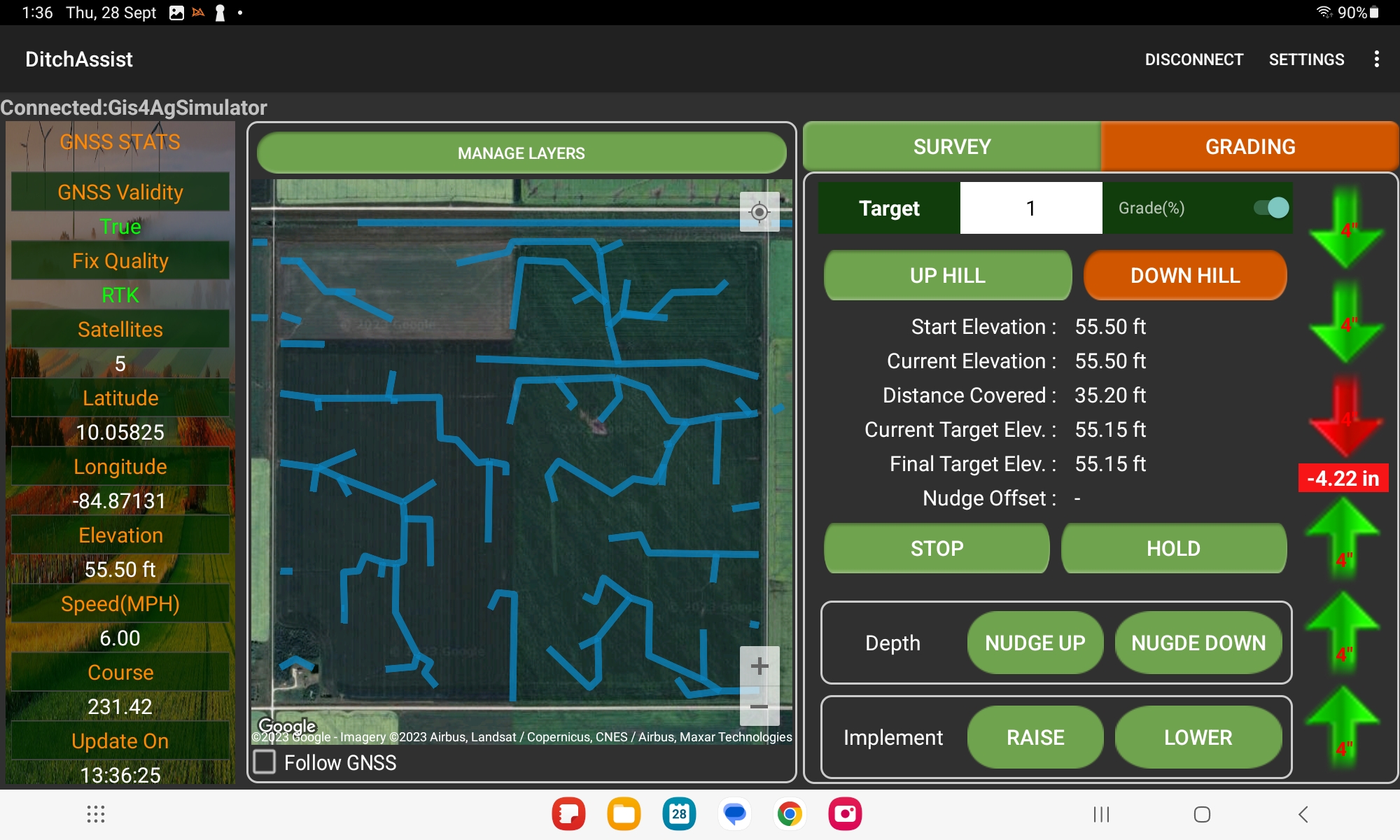 What They Are & How to Use Them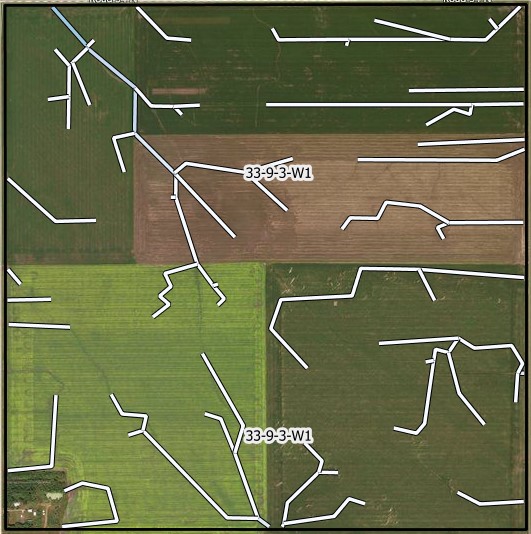 We've Created Optimal Drainage Paths Derived from LiDAR and Satellite Data for over 100 Million Acres!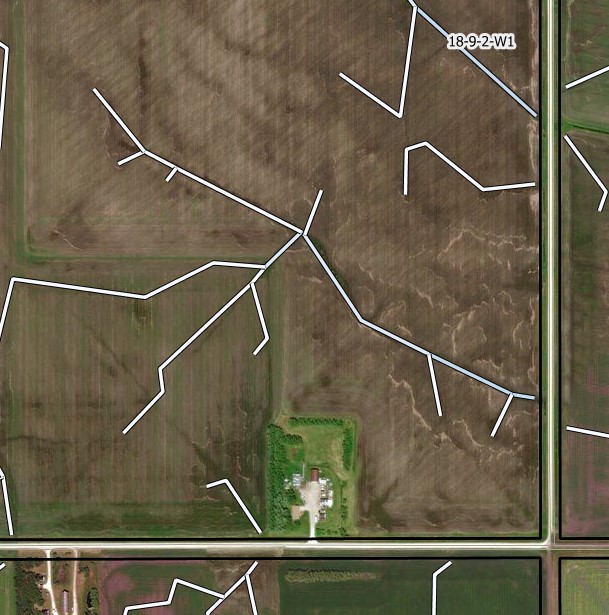 Use them to Understand Water Movement and Guide Drain Placements for Efficient Water Management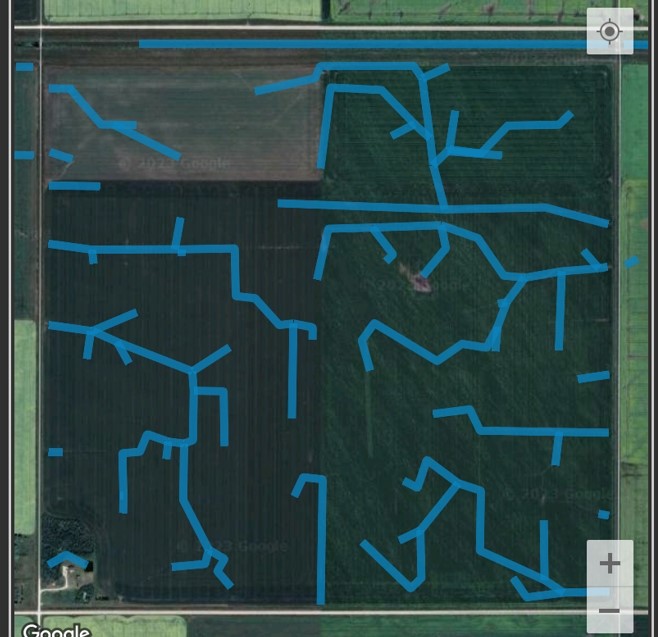 Self-Serve Portal to Download Data for Your Fields. Easily Load into Ditch Assist for In-Field Guidance
Learn More About Ideal Ditch Mapping: Watch These Informative Videos, Understand the Limitations, and Master IDM Data Download onto Your Tablet
Current Coverage Area
See the latest Ideal Drainage Coverage Map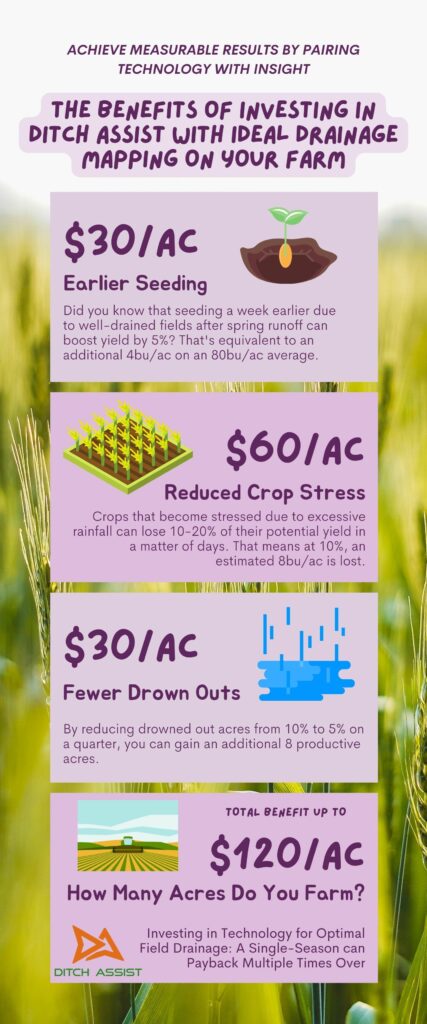 COMBINING TECHNOLOGY WITH INSIGHT
Use Ditch Assist with Ideal Drainage Mapping for Ultimate Results
Harnessing the capabilities of Ditch Assist alongside Ideal Drainage Mapping elevates the practice of precision agriculture to unprecedented heights. Ditch Assist empowers you to implement drainage solutions with RTK accuracy. When paired with Ideal Drainage Mapping—painstakingly compiled through thousands of hours of advanced computer modelling—you gain access to a comprehensive toolset that is essential for sustainable and profitable land management. The granular data this offers provides unparalleled insight into the intricacies of your land's topography. Using Ideal Drainage Mapping to guide the placement of your drains optimises operations, leading to significant yield improvements and financial gains. In fact, even a conservative application of these technologies on a 3,000-acre farm can yield a total benefit of up to $360,000 from an initial investment of less than $20,000 for Ditch Assist plus RTK.
The proposition is clear: With Ditch Assist and Ideal Drainage Mapping, you're not merely farming; you're farming smarter. This is the future of agriculture, and you can be part of this transformative journey today.
Complementary Access for Ditch Assist Owners
Ditch Assist Owners Get Complementary Access  to One Available Region
As a valued Ditch Assist System Owner, you gain complimentary access to your region-specific self-service portal. Within this environment, you can download Ideal Drainage Mapping data for all your fields at no extra charge. This exceptional offer is available exclusively to Ditch Assist Owners.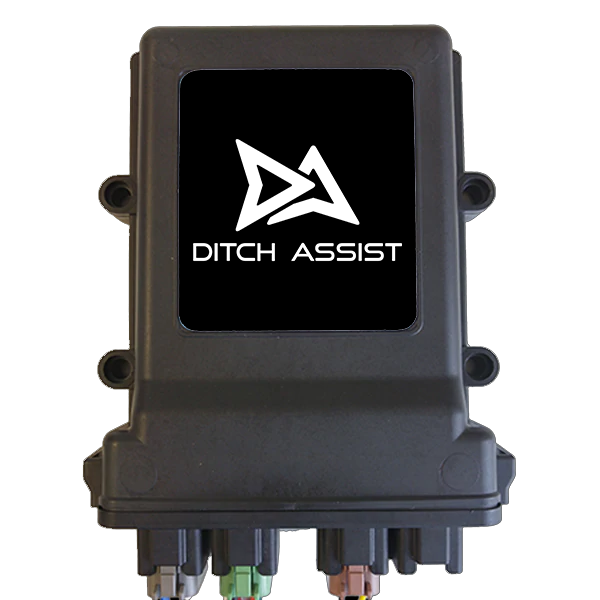 Sign Up for Complimentary Access to Ideal Drainage Maps Here
Data Privacy Notice:
We value and respect your privacy.
Data Collection: When you sign up, we collect personal data such as your name, email address, and other relevant details. This information is crucial for providing you with access to our portal and tailoring our services to your needs.
Purpose: We use this data solely for the purpose of providing, enhancing, and personalising your experience on our portal. We do not sell, rent, or share your personal information with third parties for their marketing purposes.
Data Protection: We implement robust security measures to ensure that your data is protected from unauthorized access, loss, misuse, or alteration.
Your Rights: You have the right to request access to, modification of, or deletion of your personal data held by us. Should you wish to exercise any of these rights or have any questions regarding your data, please contact our support team.
Changes to this Notice: We may update this privacy notice from time to time to reflect changes in our practices or for other operational, legal, or regulatory reasons. We recommend reviewing it regularly.
By signing up and using our portal, you acknowledge and agree to our data processing as described in this notice.
How to use Ideal Drainage Maps with Ditch Assist
Once you receive your activation invite email follow these simple instructions to source Ideal Drainage Map Layers and load them into Ditch Assist as reference map layers that you can follow while using Ditch Assist
Click the link in the email to Accept the Invitation and set a password you will remember – you'll need this to access the map portal!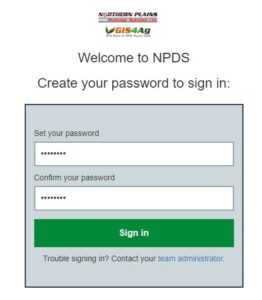 In future, navigate to https://mangomap.com/npds/sign-in and sign in with your email and password
Open the Map Portal you have access to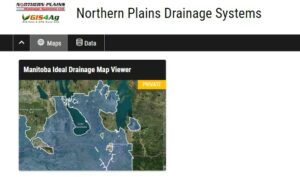 2. Locate Field(s) & Export Data
Zoom and pan or use the Search tool to search by land location to locate your field(s).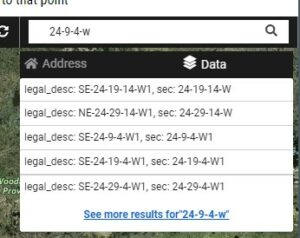 Use the Query Tool polygon selector to draw around the field or area of interest. Be sure to click the first point again to complete the drawing.
Click Get Results / Next
Download the results in KML format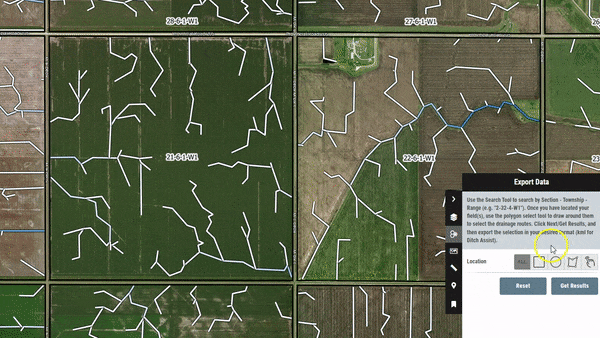 3. Import into Ditch Assist
Save the kml file to your Android tablet. The easiest way is to email it to yourself, open the email on your tablet, then save the attachment to your Downloads folder
In the Ditch Assist App, click on Manage Layers > Add > KML file
Navigate to the location your saved the kml file and select it
Tap your tablet's Back Button to return to the map screen and view your drainage route guidance

IMPORTANT NOTE: 
If you use your tablet to access the map portal and download map layers directly onto your device, the kml files may not load (they'll be greyed out). In this case, use a File Manager app to rename the downloaded file so that it ends in .kml rather than .xml (Android seems to add this to the fiel name on some devices). Then you should be able to load the layer into Ditch Assist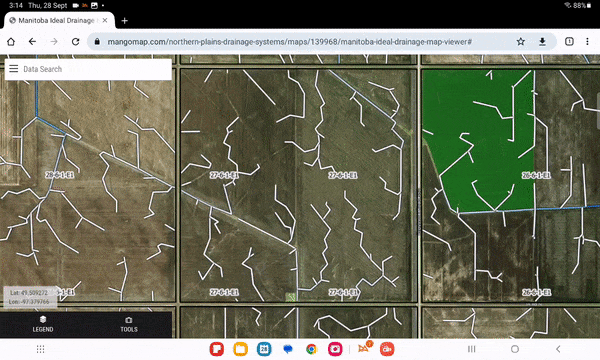 Latest Updates from Ditch Assist
DOWNLOAD PDF VERSION HERE Operator's Manual Modified: Nov 29, 2023 Ditch Assist Overview 6 Use Case I: Employing Ditch Assist for Basic Drainage, Grading, and Leveling 7 Use Case II: Utilizing Ditch Assist to Craft & Execute Multi Slope Surface & Subsurface...
read more